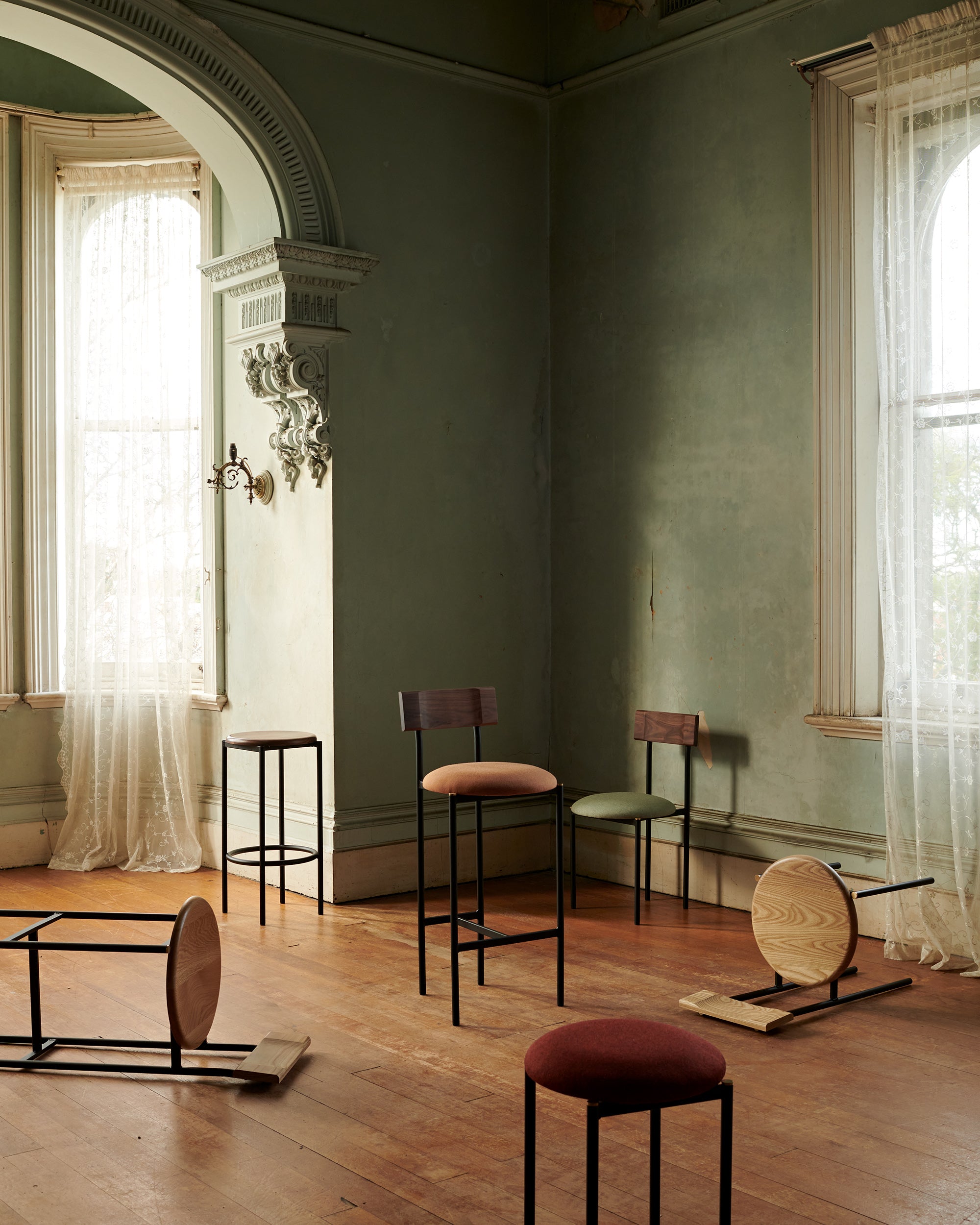 Volta Collection by RIES
From Buenos Aires to Melbourne comes Volta, a collaboration with Argentinian studio RIES
Volta is our latest collaboration, celebrating international design while continuing our focus on manufacturing locally in Australia.
Founders of RIES (Marcos Altgelt and Tasio Picollo), and Dale and Adam first met in New York in 2018, both visiting for New York Design Week and Sight Unseen Offsite. After staying in touch, we decided it would be an interesting idea to collaborate on a collection considering we are both manufacturers who focus on local production, and both located in the Southern Hemisphere. 
The beginning point for the Volta collection came from a RIES project titled Diez Sillas (Ten Chairs), whereby RIES designed and made 10 chairs from waste materials in their workshop over 2 days. Using the 6th Chair in the Diez Sillas project, over 18 months working with RIES we designed the collection together to find a balanced representation of the 2, utilising a Dowel Jones style tubular frame complemented by RIES detailing and form. 
The Volta collection consists of a Dining Chair, Bar Chair, Bar Stool, Low Stool, and Coffee Table. Launching initially in black and brass, with warm Kvadrat Melange Nap autumnal colours, the collection will be available in 100's of textile options, with several timber options, and as always, Dowel Jones large selection of colours.
To photograph the collection, we collaborated with long-time collaborator stylist and art director Natalie Turnbull, and photographer Victoria Zschommler, set in the iconic Victorian-era Labassa Mansion.

Explore the Volta Collection

Ries is a design studio based in Buenos Aires, Argentina focused on product and contemporary furniture design, as well as interiors and small-scale architecture.

 
The studio's approach to design is influenced by it's members mixed background in architecture and industrial design, who combine different materials with production processes rooted in craft and industry to create pieces that seek to elevate the experience of the everyday life.


The studio was founded in 2016 and is directed by Marcos Altgelt and Tasio Picollo.