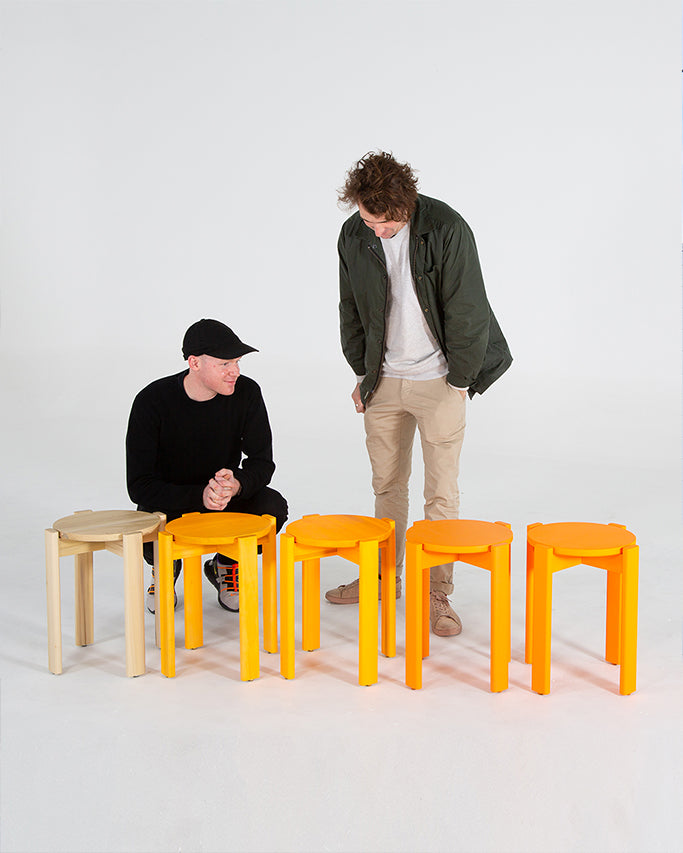 Replaced
Replaced was a collaboration with the American Hardwoods Export Council for DEN Fair 2018. Focusing on the naturally light appearance of tulipwood, we produced 5 Simon Says Low stools in different shades of neon orange to display the tonal change between natural timber colour and vibrant paint finish - going from completely tulipwood to solid neon orange. 
Tulipwood is used frequently in Europe but is, so far, little-known in Australia. A unique American hardwood species, it is favoured for its lightness, straight grain and range of colour from blonde to brown – at times even purple and green. While it is an easy timber to work with from a woodworking perspective, it proved a challenge from a design viewpoint as its natural variations in colour are very different for the Australian preference for uniform timber.

A major benefit of tulipwood is that the US hardwood forests have been sustainably managed for generations, and growth far outstrips harvest. American tulipwood is, in fact, one of the most prolific hardwoods, and in the US net volume (after harvest) is increasing by 19.7 million cubic metres a year. As part of the Denfair installation Replaced, the timber used, energy input and waste produced was meticulously recorded. Calculations based on this data have shown that the tulipwood used in the collection would be replaced in the forest in less than one second.

Photo: E3 Media