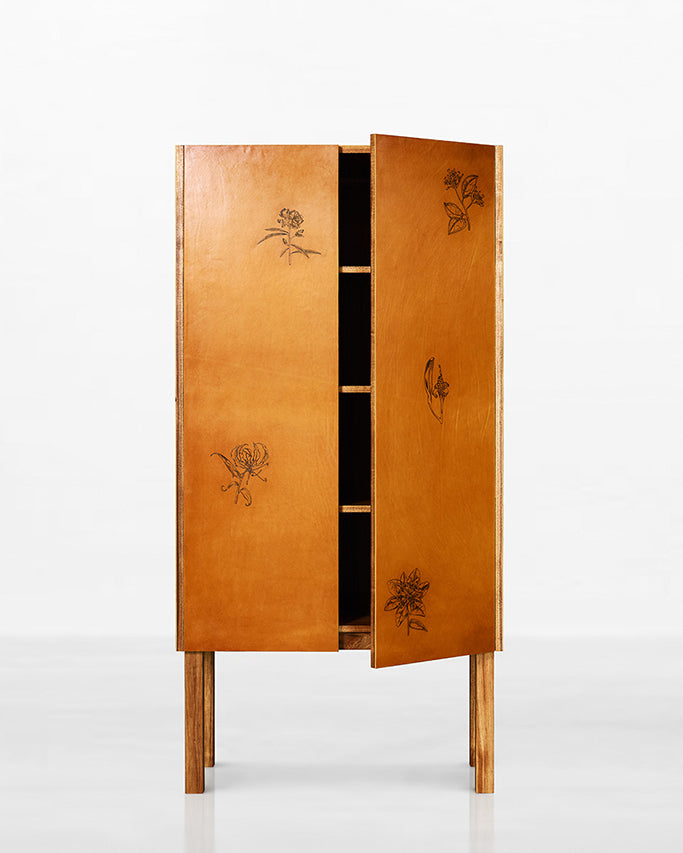 Venena Arca
For LOCAL MILAN No. 3, presented during the Milan Furniture Fair we decided to produce a piece we'd discussed for some time. As automation slowly creeps into manufacturing and craft practices, tattooing still seems to be a fairly human dependent act. We looked at how we could imbue an object with value through the understanding of a process that is known to be highly skilled and laborious.
Venena Arca
It was in Europe during the sixteenth century that wealthy individuals began collecting artifacts of natural history; bizarre and curious specimens brought to Europe from across the globe during the period known as the Age of Discovery. At first these collections filled entire rooms. Enormous seashells from beaches in Asia, stuffed birds, fish and crocodiles from the jungles of Africa, pressed plants and flowers from the deserts of the middle east hung from walls and covered every surface. Eventually these collections became more refined and curated, moving from rooms into cabinets called Kunstkabinett, Wunderkammer or cabinets of curiosities.

The work titled Venena Arca (latin for Poisonous Cabinet) is inspired by these early cabinets of curiosities. Each of the botanicals illustrated on the cabinet is a toxic native Australian plant. While Australia is known for its deadly animals, few consider that these alluring flowers also possess the power to kill. More than simply a space for storage, a cabinet can also function as a vessel for curated experience, an object that historically contained specimens of curiosity and wonder.

LOCAL MILAN featured 26 Australian designers and is the largest independent showcase of Australian design in Milan to date. Pioneering the way forward for Australian design, Emma Elizabeth, founder of LOCAL DESIGN, has single-handedly curated and directed the exhibition to advance awareness and understanding of Australian design amongst a global audience.
Tattooed by Natasha Stoyanoff, Foreveryn Falcon and Matthew J Cottrell
Photo: Kristoffer Paulsen